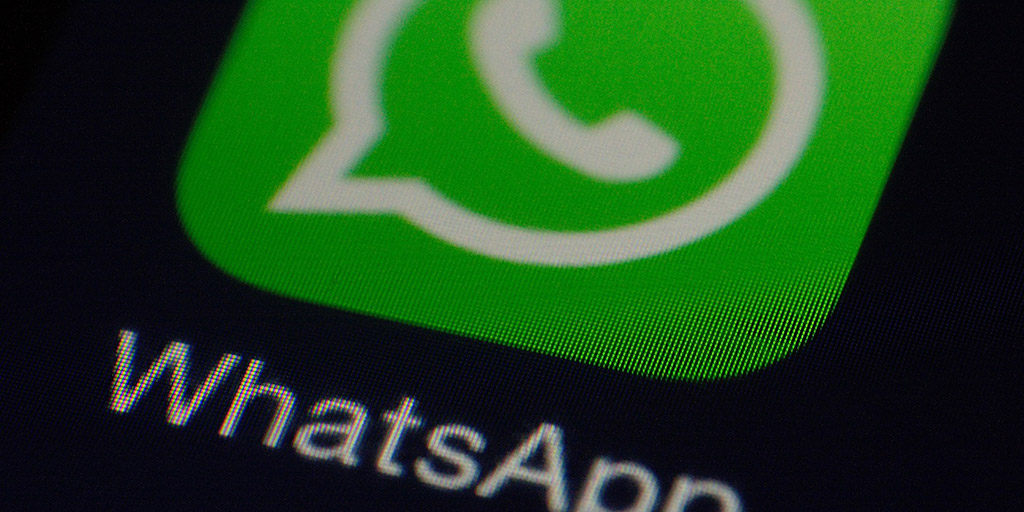 WhatsApp Messenger is one of the most popular messaging apps being used by over 1 billion people around the world. If you are planing a trip to China, you might ask this question: Can I use WhatsApp in China? Is WhatsApp blocked in China? If so, how to use WhatsApp in China? We will answer these questions in this article.
Is WhatsApp blocked in China?
Yes, WhatsApp is currently blocked in mainland China.
The blocking was first noticed and reported in July 2018, when Some WahtsApp users mentioned that although they could send and receive text messages, sending/receiving images and videos are no longer possible. As a result, many people believe WhatsApp is now banned in China.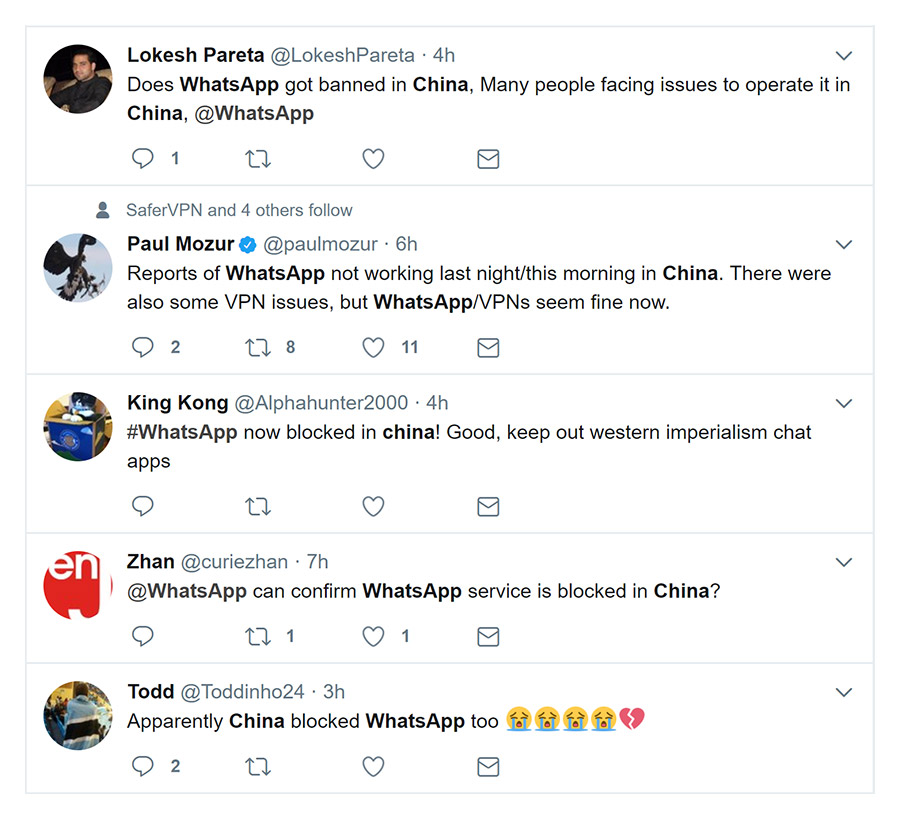 As a test, we tried installing the WhatsApp mobile app on an android phone in Shanghai. While we were able to install the mobile app using an installation file provided by Baidu.com, once we reached the step for verifying our phone number, we got an error saying "Unable to connect. Please check that you are connected to the Internet and try again", which means the connected between the phone and WhatsApp's server was blocked. Then we connected to a VPN on our mobile phone and tried again. With the VPN on, we were able to pass the phone verification step and was able to use WhatsApp without further problems. Then we turned off VPN, and we were not able to send out any message from WhatsApp.
Also, we couldn't open WhatsApp's website in China.
Our tests above indeed indicated WhatsApp was blocked in China.
New York Times also published a news, which confirmed that WhatsApp was blocked (at least partly disrupted if not completed banned) in China.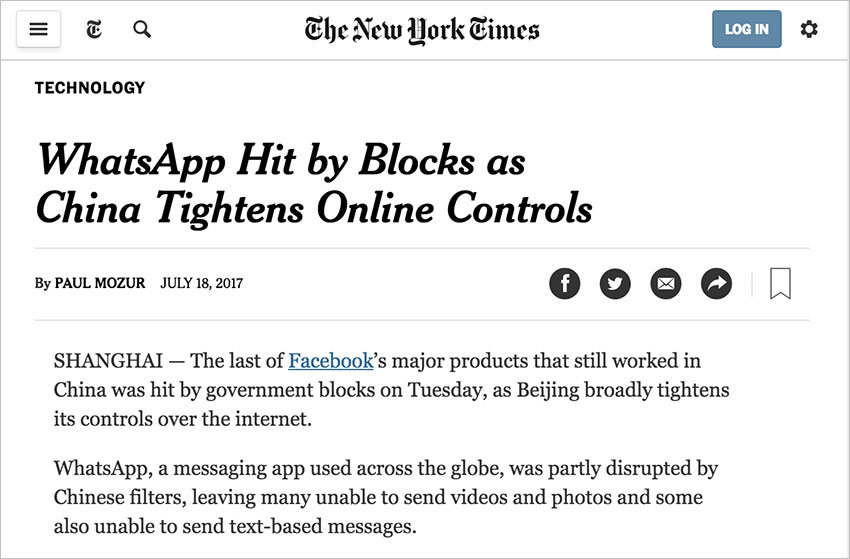 Why WhatsApp is Blocked in China?
It's a common knowledge that in China many websites, apps and services are blocked. For example, you can't access the following services in China: Google, Facebook, Twitter, Gmail, YouTube, Reddit, Google App Store and many more.
The internet blocking in China is done by the so called Great Firewall of China (GFW) and it's obviously carried out under the command of the Chinese government.
Why did the Chinese government decide to block WhatsApp? It could be related to politics. Based on many people's observations, whenever the time is close to big political events in China, we will hear more news related to China's online censorship.
In China, the most popular messaging app is WeChat, which is run by the Chinese company Tencent and it's being monitored by the Chinese government. If you are posting news or pictures that are "sensitive" on WeChat, you might see your account get suspended. That's how the Chinese government controls the information.
As for WhatsApp, since it's a foreign service, the Chinese government can't control it closely and can't do similar things as WeChat. Therefore, the Chinese government might decide to just completely block it.
Can I Use WhatsApp in China?
Although WhatsApp is blocked in China, you can still use it if you can find ways to bypass the blocking. As a matter of fact, there are many expats, business travelers and other people in China using WhatsApp in China on a daily basis. How do they use WhatsApp in China when it's blocked? While, most people use VPN to bypass the blocking.
How to Use WhatsApp in China?
We suggest you use a VPN to bypass China's blocking of WhatsApp.
VPN is a technology to add security to Internet communications. As a side effect, it can also be used to bypass censorship and blocking on the Internet. Although the Chinese government has been getting tougher on VPN usage and event made using VPN almost illegal, people in China still use VPNs heavily on a daily basis in order to access the global information.
If you are planning a trip to China and will need to use WhatsApp in China during your trip, below are some steps you should follow to ensure you can still use WhatsApp in China:
Step 1: Make Sure WhatsApp is Installed on Your Phone Before Leaving for China
Since the Apple App Store is censored in China and the Google Play Store is blocked in China, once you are in China, it'd be hard to access app stores to install apps that are blocked in China, so it's important to install WhatsApp before you go to China. Also, make sure to update it to the latest version before you go.
Step 2: Sign Up a VPN Account Before Going to China
Again, getting a VPN in China is difficult. Therefore, you'd better do it before leaving your country. One important thing you should know is that not all VPNs work in China. In fact, most VPNs don't work in China! Which VPN should you use? Based on our extensive VPN testings done in China, Below are some VPN services that we are currently working reliably in China (Most of them also offer VPN free trials):
Step 3: When Using WhatsApp in China, Connect Your VPN First
With WhatsApp and a working VPN app installed on your phone, you can use them together in China. Once you are in China, before you want to use WhatsApp, you can connect to the Internet either using Wifi or the data on your SIM card. At this point, WhatsApp won't work because you are using an Internet censored by the Great Firewall of China. The important thing you should do before using WhatsApp is to connect to VPN on your phone using your VPN app. Your VPN app will show you when you have connected successfully.
Step 4: Start Using WhatsApp in China with a VPN
Now that you have connected to your VPN, you can open your WhatsApp app on your phone and start using it. Because your VPN can bypass the blocking, you should be able to use WhatsApp in China!
One thing you might noticed is that while using a VPN, your Internet speed might seems slower, so is your WhatsApp app, but that's one drawback of using a VPN and there's nothing much you can do with it.
Conclusion
WhatsApp is currently blocked in China and can't be used in China directly. However, you can use a VPN to bypass the WhatsApp blocking in China. Make sure to select a VPN services that are currently working in China (See Chinese version: 中国好用的VPN推荐) and use it along with WhatsApp.