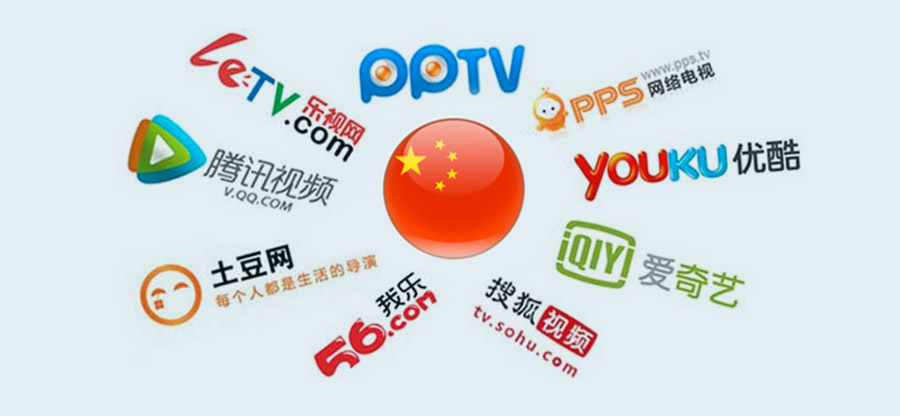 If I'm not wrong, most of our visitors are interested in using VPN from China to visit blocked Internet contents such as Google, Twitter, Facebook, YouTube etc. In other words, VPN is a popular tool for unblocking internet contents (or "翻墙软件" in Chinese). However, there're also some people who live outside of China but want to use a VPN to get into China, or get a China IP address.
Why would somebody look for a VPN into China, not out of it?
Well, there're a few needs for that.
For example, in China, there're a large number of media services that provide entertainment contents such as movies, TV shows, music etc.
Top China online video platforms include: CNTV.cn, Youku.com, Tudou.com, TV.Sohu.com, V.Baidu.com, Video.sina.com.cn, V.qq.com, IQiYi.com etc. Top China music services include Netease Music, QQ Music, Baidu Music etc.
While people in China can watch a lot of contents from these providers free of charge, many of those video platforms have implemented IP address-blocking (geoblocking), so that their contents are not available to people outside of China. Usually this type of geo-blocking works by looking at a visitor's IP address. If your IP address doesn't belong to China, you will not be able to watch those blocked contents. Since by using a VPN can "hide" a user's real VPN IP address, you can use VPN to bypass this kind of geo-blocking, just like using VPN to unlock Netflix.
Besides watching China-only videos, there might be some other needs for getting a VPN into China. For example, some web developers might want to test whether their website is blocked in China, or test how fast their website loads in China. For this reason, they might need to use VPN to get into China and do their tests.
How to find a VPN to get into China? I'd recommend looking for a reliable VPN provider who have VPN servers in China. With them, you can connect to their China VPN server, get a China IP and use the Internet as if you are using a computer in China.
Which VPNs are good for getting into China? We'd recommend the following VPN providers:
Recommendations for VPN Into China:
How to Use a VPN to get a China IP Address
Almost all VPN software/app provides the option of choosing different VPN server locations. For example, US VPN server, Japan VPN server (日本VPN), Hong Kong VPN server, Taiwan VPN server etc. Once you have signed up a VPN service that has servers in China, you can connect to their China VPN server to get a China IP address. If you use the VPN software provided by this VPN provider, you can select China as the server location before turning on the VPN connection. If you want to set up VPN connection manually, you can follow this VPN provider's instruction to set up a China VPN connection.
Let's use PureVPN as an example.
After you have opened up PureVPN's VPN desktop client (for Windows in this example), you can go to "Preferences" and click on "Select Mode". Then choose the "Stream" mode: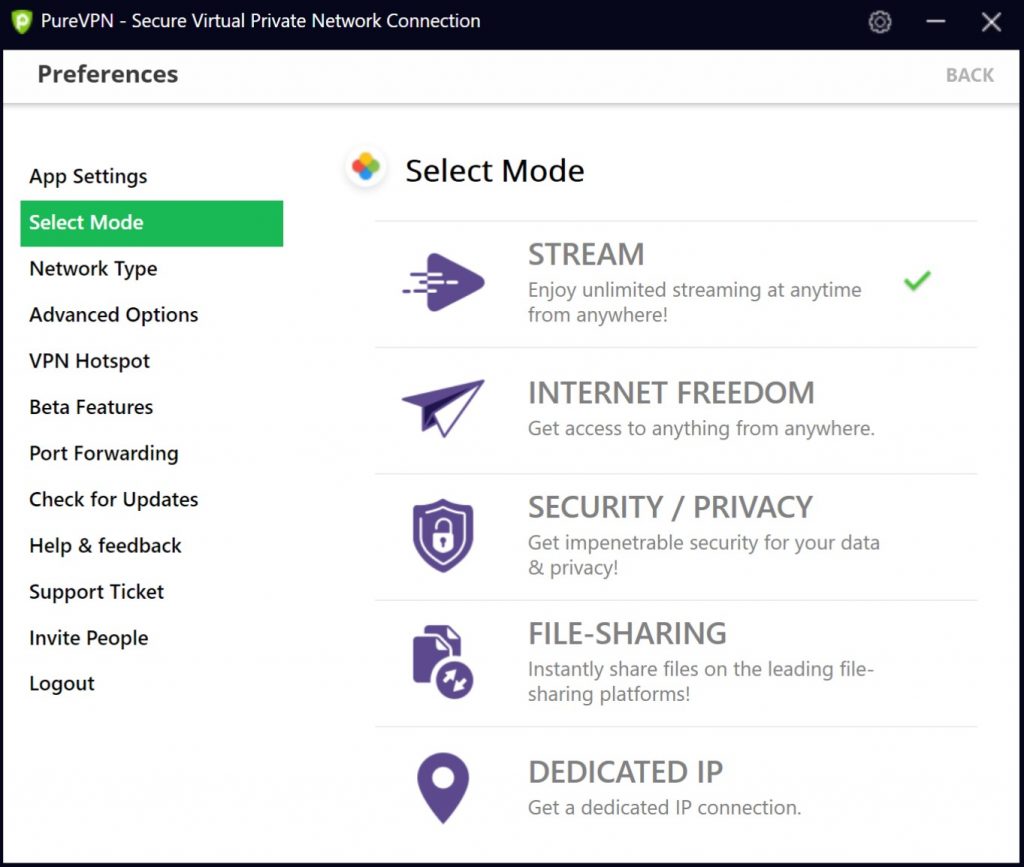 Then you click "Back" to go back to the main interface and click on "China" on the VPN server location list to get connected to China. That's it!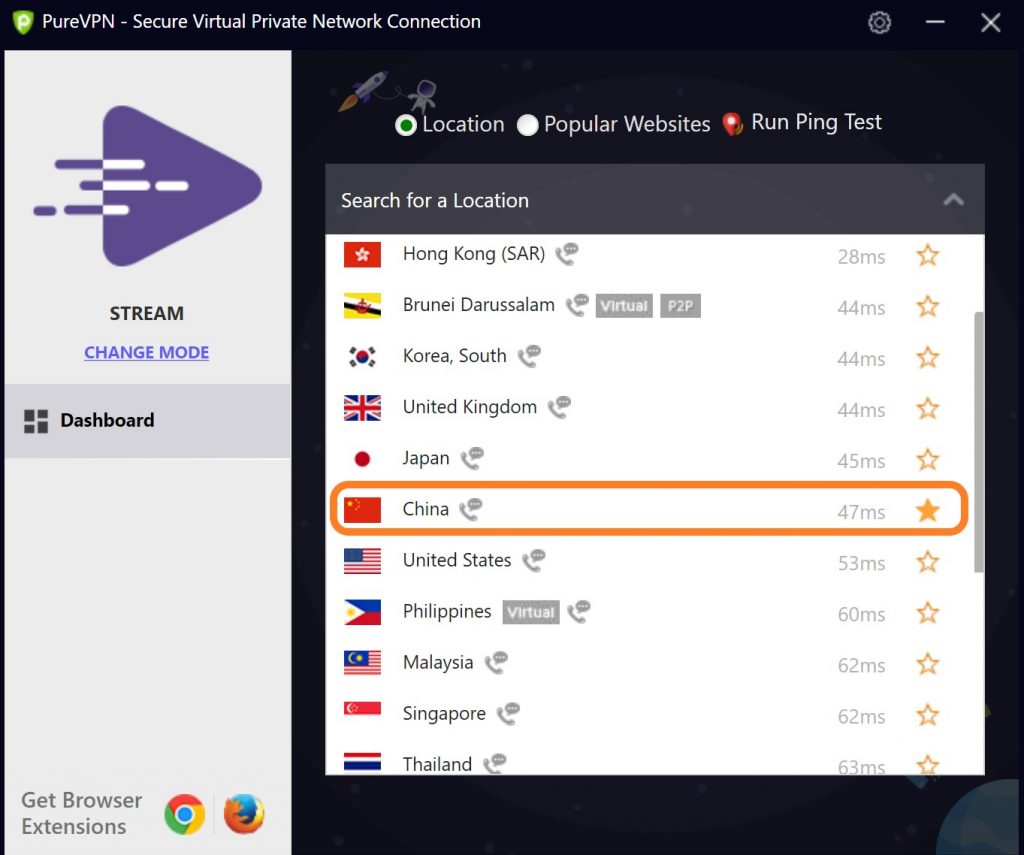 What to Do If You Can't find China in PureVPN's Server Location List
If you can't find any China VPN servers in PureVPN software's server list, it might be that under heavy VPN blocking from China, sometimes PureVPN hides their China servers on their software. But don't worry, you can log in PureVPN's website and see its China VPN server addresses listed on the "Server Locations" page. Choose one of the VPN server addresses that support PPTP, L2TP, SSTP and IKEv2: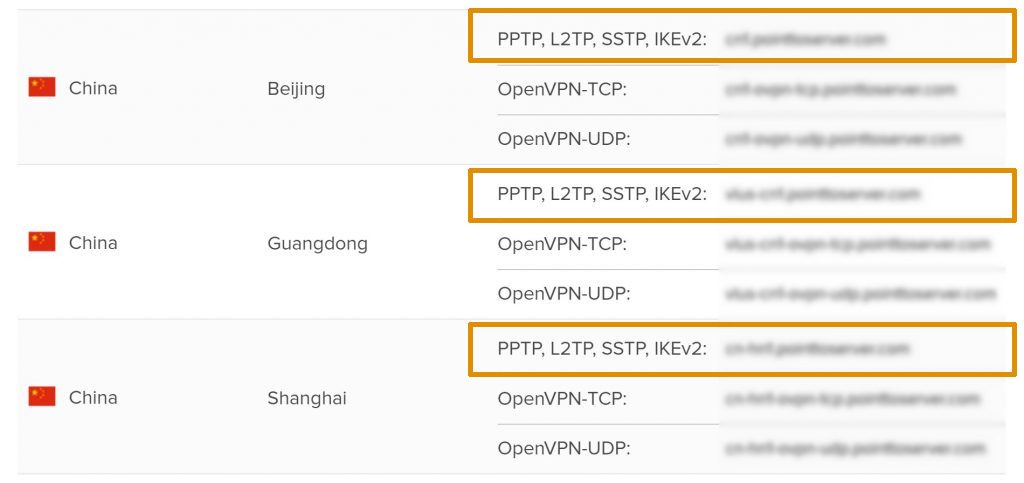 Then you can copy one of those addresses and switch to use the "Dedicated IP" mode on PureVPN 's software. You might see warning "You Don't have dedicated IP addon" but you can ignore it. You then paste the China VPN server address into the input field. You can also try different protocols (L2TP might be the best choice) to get connected to PureVPN's China VPN server as usual. If it still doesn't work, you can contact PureVPN's customer support via live chat to get help.
VPN to China: FAQs
---
VPN to China: Conclusion
In this article, we have shown why and how to use VPNs to get a China IP address to bypass China's geo-blocking on video and music media service. We have also recommended some best VPNs to do that. Based on our own testings, the best VPNs for "VPN to China" are PureVPN, CyberGhost VPN and Private Internet Access VPN:
You can also read this article in Chinese: 翻墙回国内VPN指南。