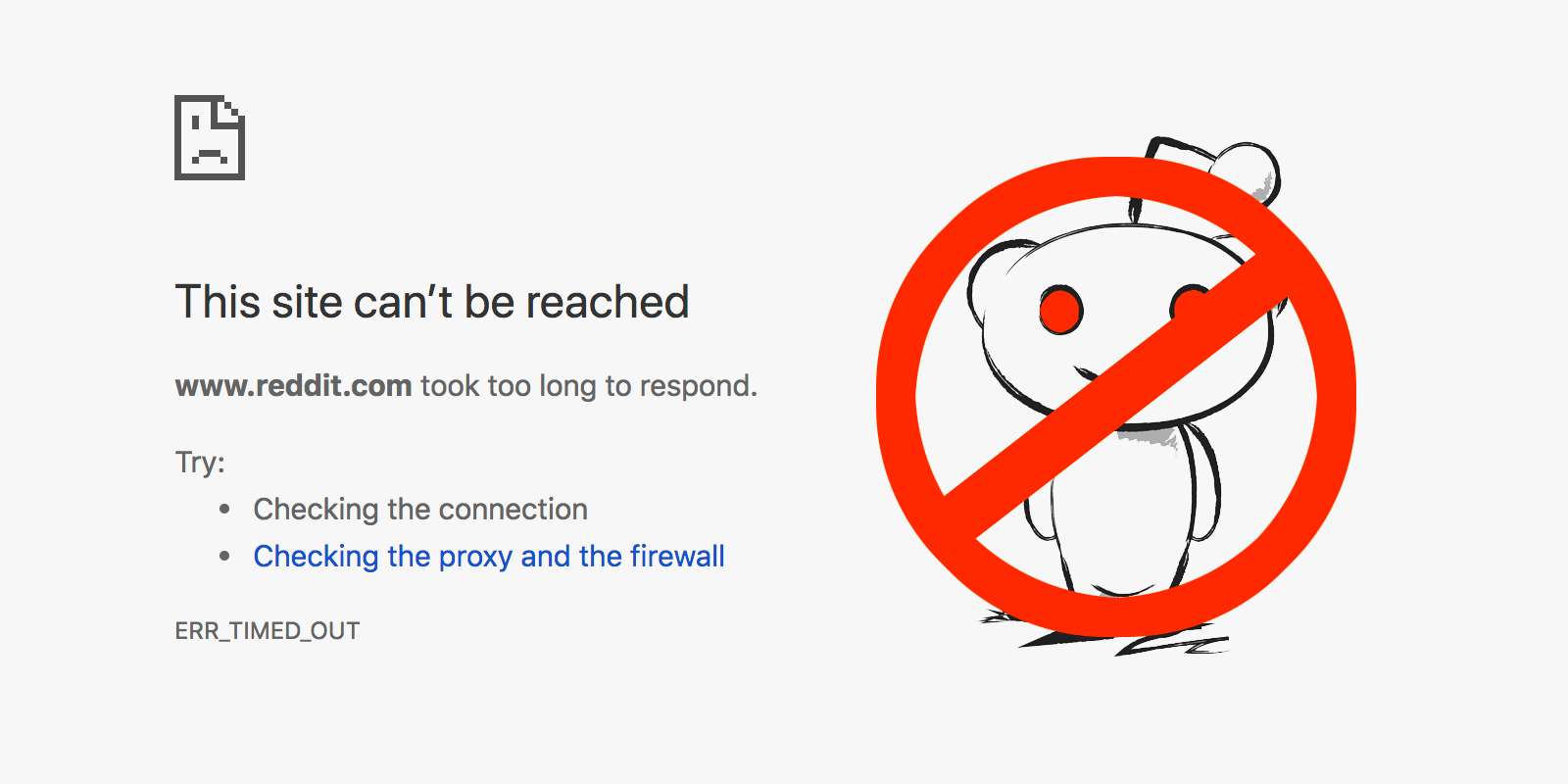 Reddit, one of the most popular websites on the internet, is now blocked in China. Along with other popular sites such as Google, Facebook, YouTube, Twitter, Google Play Store, WhatsApp etc, Reddit is now banned from the internet users in Mainland China by the so-called Great Firewall.
Why Reddit Is Blocked in China
Since the Great Firewall never publicly announces its decisions or offers any explanations for blocking foreign websites, nobody can tell the exact reason why Reddit is blocked in China.
Although there are some subreddits that are related to China or allowing discussions in the Chinese language, those contents are usually not very political, as compared to those of other social media sites. Also, it seems like Reddit doesn't have a huge amount of Chinese user either. That's probably why this site had been accessible from China for many years.
But who knows what had triggered the Great Firewall recently to let Reddit become its newest target. One thing we know for sure is that China is getting tougher on its censorship. More websites are getting blocked now, and China even made using VPNs barely legal.
How to Access Reddit in China?
Given that Reddit is now banned, how to access it from China? Well, probably VPN is still your best friend. It should be pointed out that China's cracking down on VPN has also been getting heavier. Although there're still some VPNs that work relatively well in China, such as ExpressVPN, NordVPN and VyprVPN, most other VPN services are completely blocked in China.
All of these indicates that the internet censorship in China is not becoming softer at all. As a website dedicating to testing VPNs to help people bypass internet blocking in China, we recommend the following VPN services that can be used to access Reddit in China:
In order to use VPNs to access Reddit in China, first you need to sign up for an account with one of the working VPNs. Then following the instructions provided by the VPN service providers, you should install VPN software or VPN app on your desktop computer and mobile phone.
When you have VPN software/app installed, you should be able to access Reddit in China even if it's blocked. To use it, just turn on your VPN before you need to access Reddit, and then you should be able to visit Reddit in China as usual.
Conclusion:
Reddit is now blocked in China, most likely due to China's censorship is getting tougher. With Reddit blocked, you can no longer access it directly in China. However, if you use tools such as VPNs to bypass China's Internet blocking, you should be able to access Reddit in China even if it's blocked.