Does ExpressVPN still work in China? What's ExpressVPN's China Link? We are VPN testers based in China. We tested ExpressVPN from China. Here are our test results and review of ExpressVPN:
Does ExpressVPN work well in China? This is our review of ExpressVPN based on real VPN tests done in China. In this review, we will cover Express VPN's speed, reliability, price, free trial, discount, software, customer service etc. to show whether ExpressVPN is a good for China. In addition to this ExpressVPN review, we have also tested a number of other VPN services from China. If you are looking for a reliable VPN services to be used in China, Please also read our list of Best VPNs for China.
ExpressVPN review in Chinese: ExpressVPN中国评测

» Get ExpressVPN (3 month free)
Pros:
ExpressVPN is not blocked in China
ExpressVPN responses very fast to China's VPN blocking
Fast speed, reliable connections.
Many world-wide server locations to choose from.
Offers "Connection Per App" feature that allows bypassing VPN for certain apps.
With 30-day money-back guarantee, you can try it free for a longer time.
Excellent customer support.
Cons:
ExpressVPN's price is at the high end.
Starting Price: $6.67/mo (with discount offer from this link).
Free Trial: 30-day money-back
Simultaneous Connections: 5 devices.
Special Discount Offer: Get 3 Months Free from this link (with one-year plan)
ExpressVPN China Website (ExpressVPN China Link):
» Get ExpressVPN (3 month free)
About ExpressVPN
ExpressVPN is one of the big names of the VPN industry with world-wide customers. If you are looking for a reliable big brand VPN provider, you should definitely consider Express VPN. Below is a video about ExpressVPN:
Express VPN for China: Accessibility
Is ExpressVPN good for China? ExpressVPN has been listed as one of the best VPNs for China by many VPN reviewers. ExpressVPN's main domain, expressvpn.com, is currently blocked in China, but you might be able access ExpressVPN's website via this ExpressVPN China link.
Based on our tests from China, we confirm that users can sign up ExpressVPN's services from China and their VPN service can be used in China. In addition to standard payment methods such as credit card and Paypal, Express VPN also accepts Alipay and UnionPay, which is convenient for customers in China.
Currently ExpressVPN doesn't support the Chinese language on their website or software. Basic English skill is needed to use ExpressVPN from China.
ExpressVPN for China: Dealing with China's VPN Blocking
China is known for blocking and disrupting VPN services. During certain periods, such as days before important political meetings, most major VPN services might become disrupted and VPN users might find great difficulty in connecting to VPN servers. ExpressVPN is not exceptional in this kind of situation. However, based on our observations, ExpressVPN is usually more reliable in "hard times" than other VPN providers (such as Astrill VPN).
For example, in late October 2018, a big attack happened to major VPN services in China. As a result, most VPN services, such as ExpressVPN, VyprVPN etc., experienced a short period of service disruption. Under such situations, some VPN companies would do nothing and just hoped for the best. However, ExpressVPN quickly acknowledged the situation and immediately started working on solutions. An email message was sent out to ExpressVPN's customers mentioning about the disruption along with a website link for ExpressVPN's China users to check on the latest status and download the latest software updates to deal with the blocking. With the updated software, released shortly after the disruption, many ExpressVPN's China users were able to use Express VPN again without any problem. This kind of quick response to China's VPN blocking really makes ExpressVPN one of the best choices for China's VPN users.
» Get ExpressVPN (3 month free)
ExpressVPN for China: Features

Server Locations:
ExpressVPN has servers in 160 locations from 94 countries with unlimited server switches. Actually, it's been rated as one of the best VPNs for Japan, Hong Kong and Taiwan etc. and can be used to access most blocked websites and services, such as Google, Twitter, Facebook, YouTube and ChatGPT. For VPN users in China, the best server choices for ExpressVPN are Hong Kong, Tokyo and Los Angeles (on ExpressVPN's desktop software, China users can see a list of recommended servers to connect).
Speed Limit & Bandwidth Limit:
ExpressVPN users can enjoy unlimited speed and unlimited bandwidth.
VPN Protocols:
ExpressVPN offers multiple VPN protocol types including OpenVPN (TCP, UDP), L2TP-IPsec, SSTP, PPTP and Lightway. Based on our testings from China, for ExpressVPN's users in China, the best option for VPN protocol is to set it to "Automatic", which will allow ExpressVPN to automatically pick the protocol most appropriate for the user's network.
Supported Platforms:
ExpressVPN's users can connect from computers, tablets and smartphones using their software or apps, which support Windows, Mac, IOS and Android.
Multi-Logins:
For simultaneous connections (or multi-logins), ExpressVPN allows users to connect from up to 5 devices at the same time.
Split Tunneling:
ExpressVPN also offers a feature called "Connection Per App" (split tunneling), which means you can choose which software/apps to use (or not to use) VPN when connected. This feature is very useful for users in China, because as most China users use ExpressVPN to unblock websites, it's not necessary to use VPN on local software/apps such as WeChat, Baidu Cloud, Aliwangwang etc. With this feature, you can let ExpressVPN bypass those software/apps to that their speed won't be slowed down.
Logging:
ExpressVPN offers a no logging policy. Therefore, when you use ExpressVPN, your online activities are not logged and your privacy is protected.
NetFlix Support:
ExpressVPN can be used to bypass NetFlix's geo-blocking. With ExpressVPN, you can watch NetFlix's U.S. programs outside of the United States. Actually, ExpressVPN is one of the best VPNs for Netflix.
P2P, Torrenting & File Sharing:
ExpressVPN allows P2P and Torrenting.
Browser Extensions:
ExpressVPN recently started offering browser extensions, which can be installed to web browsers such as Chrome, FireFox and Safari. ExpressVPN's browser extension makes it easier to turn VPN on and off because the users can do so without leaving the browser.
» Get ExpressVPN (3 month free)
How to Get ExpressVPN in China
If you can see this page, it's most likely that you are either outside of China or you are using a VPN from China (because this website is blocked in China). If that's the case, signing up for ExpressVPN is as easy as clicking on this link (special discount inside). However, for most internet users in China, as ExpressVPN's website is blocked in China, it's difficult to sign up for ExpressVPN. Don't worry, though — there are some ways to get around this problem:
Use mirrored websites. These are mirrors of ExpressVPN's website with different URL addresses that are not blocked in China. You can get a working mirrored link by emailing ExpressVPN or asking a friend outside China to chat with ExpressVPN's support and send you the link.
Ask a friend outside China to sign up for ExpressVPN for you. They can create an account for you, pay for the subscription, and send you the login details and installation files. You can pay them back through PayPal, bank transfer, or cryptocurrencies.
Use a free proxy or VPN to visit ExpressVPN's website. Free proxies and free VPNs are not reliable in the long run if you want to use them in China, as they are easily to be blocked. However, if you can find a free proxy or free VPN that are still working in China, you can use it as a temporary solution to visit ExpressVPN's blocked website in China and sign up the service.
(Android users) Email ExpressVPN and ask for the .apk app. If you have an ExpressVPN subscription and an Android device, you can install the .apk app without using the app store. Just contact ExpressVPN's email support and they'll send you the .apk file for the latest Android app. Be careful not to download the .apk file from other sources because they might be harmful.
ExpressVPN for China: Price & Free Trial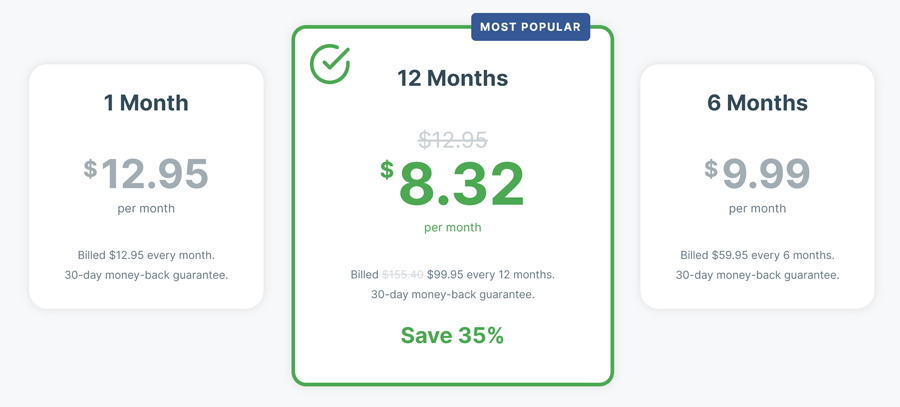 ExpressVPN offers 3 plans: $12.95/month if you pay month by month; $9.99/month if you pay every 6 months and $8.32/month if you pay annually. In addition to standard payment methods such as credit card and Paypal, they also accepts Apipay and UnionPay, which is convenient for customers in China. ExpressVPN offers a 30-day money-back guarantee, which is a much longer free trial period compared to other VPN providers.
ExpressVPN for China: Desktop VPN Software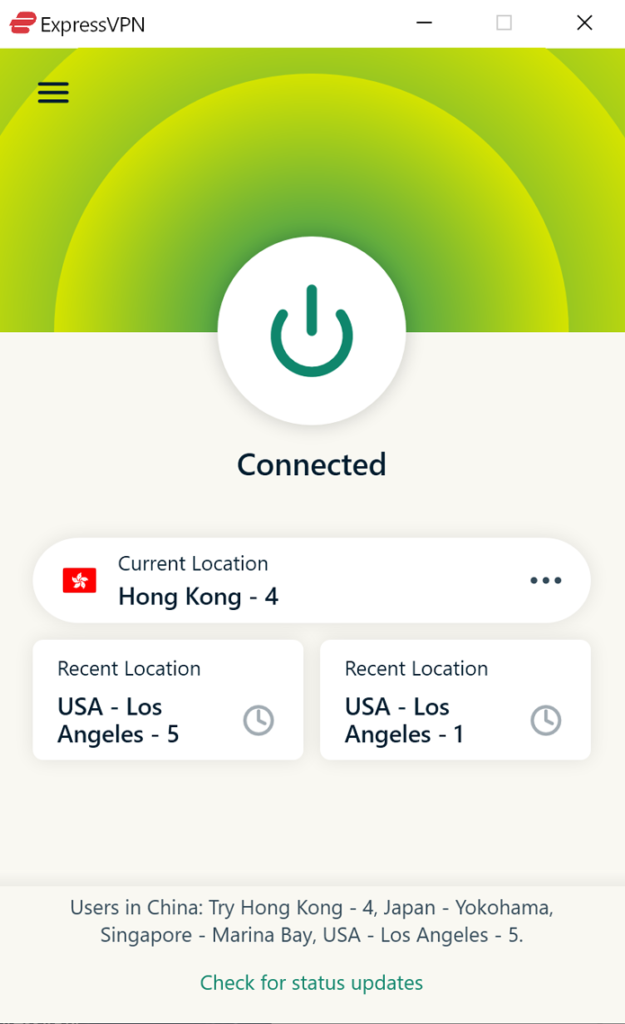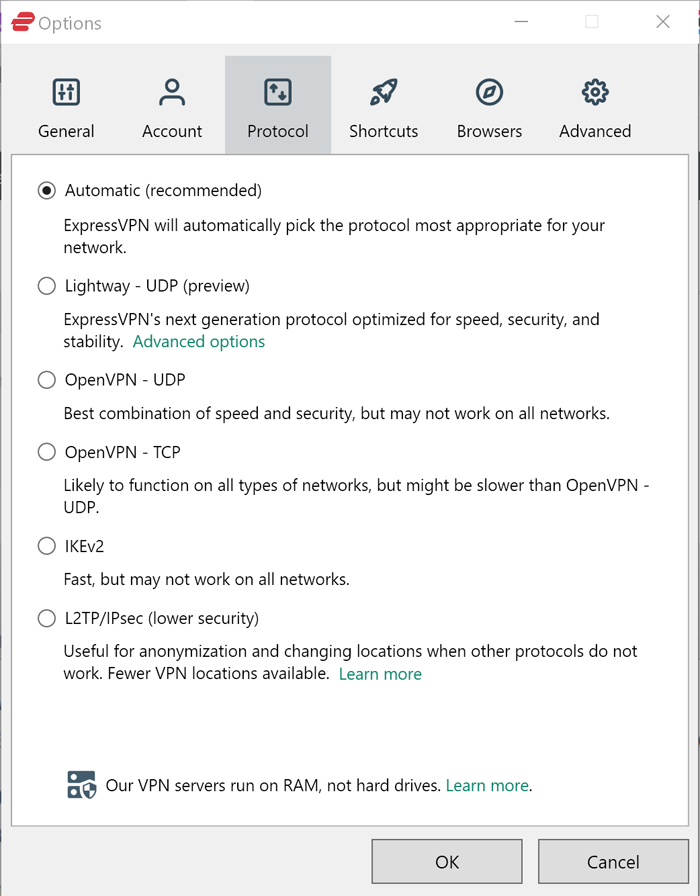 ExpressVPN offers desktop software for many platforms, including Windows, Mac, Linux, IOS, Android, Apple TV, Amazon Kindle Fire, PlayStation, Xbox and supported routers etc. In addition, installation instructions are provided for setting up ExpressVPN without installing their software for those platforms.
We downloaded their desktop client for Mac OS. The installation process was straight-forward and the software interface is clean and intuitive.
With the desktop software, you can connect/disconnect to VPN and also change server locations and switch connection methods.
When the ExpressVPN software is running, an icon will stay on the menu bar (or called system tray on Windows), and it will indicate whether you are currently connected or not.
» Get ExpressVPN (3 month free)
ExpressVPN for China: Android App
For mobile phones running the Android operating system, ExpressVPN provides a free app that can be downloaded from the Google Play app store or by following a link to the APK installation file provided on ExpressVPN's website. We installed this app on a Android phone. This app has a very clean and easy-to-understand user interface. After logging in, you will see a list of servers for you to choose from, including a top recommendation server location, which is Hong Kong in our case. This app also allows users to run a ping test, which will estimate the distance between you and all ExpressVPN locations to help you choose a server closer to you. After connected to ExpressVPN's Hong Kong server, we were able to access blocked contents such as Twitter, Facebook and Youtube on our Android phone without any problem. We were able to play Youtube videos on this phone and the video streaming experience was very smooth.
ExpressVPN for China: iPhone App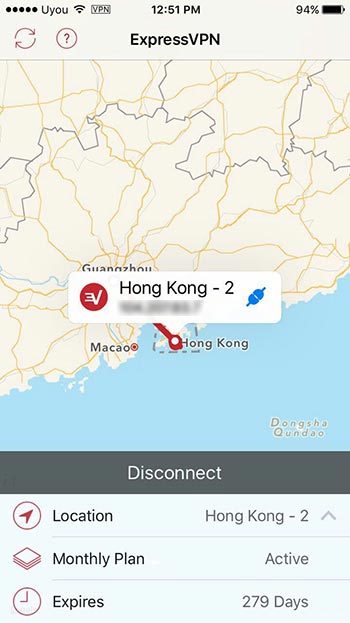 ExpressVPN also provides a free App for iOS. We installed the ExpressVPN app from iPhone's App Store. ExpressVPN's iPhone app looks different from its Android App. The iPhone app includes a map showing your current location and the VPN server locations. When you connect to a server, you will see an animated line connecting two dots on the map, which is pretty cool. We were able to connect to Express VPN's Hong Kong server. After the connection was established, a VPN icon appeared on top of the iPhone screen, indicating the connection success. With Express VPN connected, we were able to access blocked websites such as YouTube, Facebook and Twitter on our iPhone in China. When we played Youtube videos, the speed was very good.
» Get ExpressVPN (3 month free)
ExpressVPN for China: ExpressVPN Routers
ExpressVPN can also be setup on a compatible Wifi router. ExpressVPN even provides a VPN router app that can be installed on some supported router models. If you are interested, please read our ExpressVPN Router Review.
ExpressVPN's Connections & Speed Test
Is Express VPN stable enough and fast enough to be used in China? For this test, we used a Mac computer from Shenzhen, China. Our ISP is China Telecom. Without VPN, we could get a download speed of around 155.31 Mb/s. Below is the SpeedTest.net test result without connecting to VPN. Please note: this speed only reflects the speed when visiting local websites within China. International speed would be much lower than that. We show this result only to give you a rough idea about how fast our current ISP is: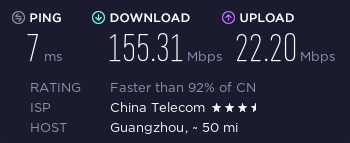 Then we used ExpressVPN's Mac desktop client to connect to one of its Hong Kong servers. We got a download speed of 116.34 Mb/s, which is super fast: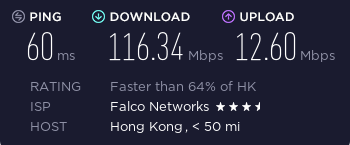 We have also tried connecting to one of ExpressVPN's US Los Angeles servers and got a download speed of of 29.24 Mb/s: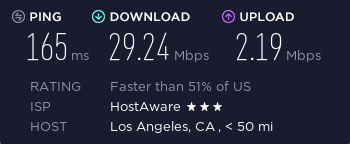 Overall, based on our tests, ExpressVPN offers very fast and stable Internet speed.
Express VPN for China: Customer Support
When you visit ExpressVPN's website, you will see a live chat box, which allows you to connect to a customer support representative directly round-the-clock. We tried chatting with ExpressVPN's support team on a number of occasions. Every time we were able to talk to someone within one minute after I initiated the chat session, and their customer support representative seemed to quite helpful and know that they are doing. As a matter of fact, we think ExpressVPN's customer support is probably one the best among the ones we have tested.
» Get ExpressVPN (3 month free)
Tips for Using ExpressVPN in China
Take advantage of ExpressVPN's 30-day money back guarantee. You can try ExpressVPN for free for 30 days. If it doesn't work or if you don't like it, you can cancel your subscription within 30 days to get a full refund.
For VPN protocol, choose the "automatic" option to let the ExpressVPN software to pick the best VPN protocol based on your current situation.
For VPN servers, choose the ones recommended by ExpressVPN. ExpressVPN has some dedicated servers that are optimized for China users. Those servers are usually located in Hong Kong, Japan or LA and are more stable during China's VPN blocking. You can find a list of these servers when you open ExpressVPN's software, or you can contact ExpressVPN's customer support to ask.
Update your VPN software/app on a regular basis. To deal with China's VPN blocking, ExpressVPN rolls out VPN software/app updates very often. You should always use the most updated version to make sure you can defeat China's VPN blocking.
If your ExpressVPN connection is blocked, try the followings:

Make sure your software/app is the most updated version.
Make sure you are using the "automatic" protocol.
Switch to a difference server (choosing from from the list recommended by ExpressVPN).
Contact ExpressVPN's customer support via Live Chat or visit its support page for status updates and unblocking tips.
ExpressVPN for China: FAQs
🔴 Does ExpressVPN work in China?
The Great Firewall of China not only blocks foreign websites, but also blocks VPN services. As a result, most VPNs don't work in China. However, despite China's heavy VPN blocking, ExpressVPN currently still work well in China.
🔴 How do I get ExpressVPN in China?
Due to China's website blocking, the main website of ExpressVPN is blocked in China. ExpressVPN has set up some alternative domain names for users in China to access its service. Once you have signed up an ExpressVPN account, you can follow the instructions provided by ExpressVPN to set up VPN by installing its desktop software or mobile apps. You can also set up ExpressVPN manually on computers, mobile platforms and even Wifi routers.
🔴 How to get discount for ExpressVPN?
ExpressVPN has offered us a special discount, where you can get 3 extra months of ExpressVPN for FREE,You can click this → ExpressVPN discount link ← go get this special discount.
🔴 Why is ExpressVPN not working in China?
The Great Firewall of China has been trying to blocking all VPN services. Although ExpressVPN works most of the time in China, sometimes during heavy VPN blocking, it might stop working for a short period of time. When this happens, usually the ExpressVPN team is aware of this situation and can solve the problem and get it working again very soon. As a user, you should check ExpressVPN's announcement and also make sure to upgrade your software/app to the latest version. You can also contact ExpressVPN's live support to get your problem solved.
🔴 What if ExpressVPN can't be found in the Apple App Store in China?
Under pressure from the Chinese government, Apple removed almost all VPN apps from the Chinese version of its app store a few years ago. If you're using an iOS device, you can temporarily change the region of your Apple account to another country (e.g. USA), or temporarily switch to another Apple account belonging to another country, and download and install the ExpressVPN app. Then you can revert back to the original account.
🔴 Where can I download the ExpressVPN Android app in China?
ExpressVPN's Android app is not found in the Android App Store in mainland China, but you can install ExpressVPN's Android app by downloading the APK file directly from ExpressVPN's official website.
🔴 How many devices can ExpressVPN be used on at the same time?
When you purchase ExpressVPN, a single account allows you to use it on up to five devices at the same time (including computers, tablets, and other devices). If you still want to connect more devices, consider setting up ExpressVPN on your router (see our review for ExpressVPN router) so that all the devices connected to this router (unlimited number of them) can now all use ExpressVPN at the same time.
Express VPN for China: Review Conclusion
ExpressVPN is a well-known VPN provider and with many customers. Users can sign up for their service from China and their VPN service work well in China. Their 30-day money-back guarantee offer is generous and their customer support is very fast and helpful. Among all VPN providers we have tested, ExpressVPN really stands out with reliable connections, fast speed and excellent customer supports, as well as quick responses to China's ongoing VPN blocking. Based on our tests, we recommend this VPN provider and have included it in our Best VPNs for China list.
» Get ExpressVPN (3 month free)
If you are looking for a reliable VPN services to be used in China, Please make sure to read our list of Best VPNs for China.