Does Surfshark VPN work well in China? We have tested it in China and here is our Surfshark VPN review. We'll talk about its VPN software, VPN app, speed, price, free VPN trial, customer service, and more. We'll also show you how to make Surfshark VPN work in China if you find that it doesn't.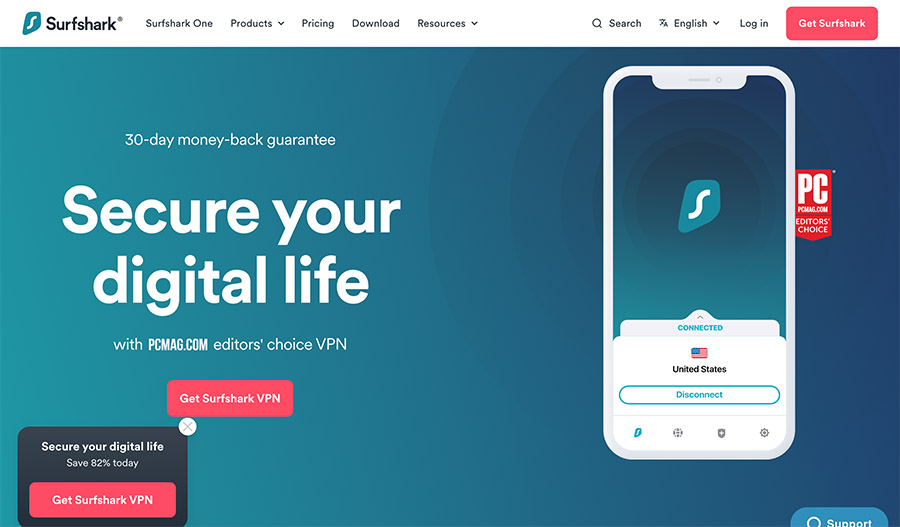 Pros:
Low VPN price.
Can be used on unlimited devices at the same time.
Offers 30-day money-back guarantee.
24/7 live customer support.
Cons:
MacOS software only support the IKEv2 protocol.
Might have to use manual setup to get it work in China.
Starting Price: $2.05/mo
Free Trial: 30-day money-back guarantee
Simultaneous Connections: Unlimited
Surfshark VPN's Website:
» Visit Surfshark VPN (with discount)
About Surfshark VPN
Surfshark VPN is a well-known VPN service that is used by a lot of people all over the world. It has gotten a lot of very good reviews, even from respected sources like PC Magazine.
Surfshark for China
The so-called "Great Firewall of China," which blocks websites, also blocks VPN services. This is a big problem for people who want to use VPN in China. Because of this, many well-known VPN services don't work at all in China. Even if you use one of the best VPNs for China, there is still a chance that your VPN connection could be blocked or interrupted. So, at this moment, there is no VPN service that can promise to work 100% of the time in China.
How does Surfshark deal with China's VPN Blocking?
In fact, Surfshark VPN has used some special technology to get around the Great Firewall's blocking of VPNs. For example, the NoBorders mode of Surfshark VPN lets users use Surfshark in places like China where it is blocked. Surfshark's VPN software or app will know when it's being used in China and will automatically switch to NoBorders mode and show a list of servers that work best in China.
Surfshark VPN also includes a feature called the Camouflage mode, which is a special type of VPN obfuscation that makes VPN connection look like a regular internet connection by removing any VPN traces. This mode can be used to hide your VPN connection from the Great Firewall's VPN blocking.
In addition, Surfshark VPN has set up some special VPN servers that are set up especially for users in China.
Does Surfshark VPN work in China? How to make SurfShark VPN work in China if it stops working?
We tried Surfshark VPN in China and found that it did work here. However, we found that sometimes it's difficult to connect to Surfshark VPN in China using its native software, just like with most other VPNs. But we also discovered a solution: We found that the most reliable way to use Surfshark VPN in China is to set up VPN manually and connect to its special servers.
If you want to use Surfshark VPN in China, we suggest you talk to Surfshark VPN's customer service (via live chat on their website) and tell them that you're having trouble getting Surfshark VPN to work in China. Surfshark's customer service will provide instructions for getting its VPN work in China along with a list of "secret" VPN servers you can use to get connected in China. By following this instruction, you can set up Surfshark VPN manually using third-party software (such as OpenVPN GUI and Tunnelblick) and connect to Surfshark's special VPN servers without any problem. In fact, we recommend you set up and use Surfshark VPN this way if you want to use it in China.
» Visit Surfshark VPN (with discount)
Surfshark VPN's Features
Surfshark's Server Locations:
Surfshark offers 3200+ VPN servers in around 95 different countries and 110 locations, including locations that are best for China: Japan, Hong Kong, US West Coast etc. Surfshark is also one of the best VPNs for Japan, Taiwan and Hong Kong etc.
Surfshark's VPN Protocols:
Surfshark supports multiple VPN protocols, including OpenVPN, IKEv2, WireGuard and SOCKS5 etc. IKEv2/IPsec is the default protocol on all of the Surfshark VPN apps. Surfshark offers the industry-leading AES-256-GCM encryption, which provides a very high level of online security.
Surfshark's VPN Restrictions:
Surfshark VPN offers unlimited bandwidth, unlimited server switches and unlimited speed.
P2P is allowed by Surfshark, so you can use it for torrenting and other types of P2P file sharing.
One unique and great feature of Surfshark VPN is that it allows users to connect from unlimited umber of devices at the same time. Depending on the VPN provider, usually a VPN user can use the VPN on anywhere from 5 to 10 devices at the same time. However, Surfshark VPN does not have this restriction. One Surfshark VPN account can be used on as many devices as possible. This feature makes Surfshark VPN one of the best VPNs for VPN sharing.
Surfshark VPN's Supported Devices:
Surfshark supports the following operating systems and devices: Windows, MacOS, Linux, iOS, Android, Fire TV Stick, Chrome extension, Firefox extension etc.
Surfshark for Streaming:
Surfshark can be used to unblock online streaming platforms such as YouTube, Netflix, Prime Video, Hulu, Disney+, BBC iPlayer, HBO Max, DAZN, Hotstar, AbemaTV, YLE Areena and many others. It's one of the best VPNs for Netflix.
Surfshark VPN' Privacy Policy:
SurfsharkVPN has a no-log policy, which means they do not monitor, track, or store what VPN users do online.
Other Features of Surfshark:
As mentioned above, Surfshark VPN offers two features to help VPN users in China to defeat VPN blocking. The first one is the NoBorders mode, which automatically select a list of VPN servers that work best under network restrictions. The other one is the Camouflage mode, which is a VPN obfuscation method that can be used to hide VPN connections from the Great Firewall's VPN blocking.
Surfshark also supports VPN split tunneling. It's called Bypasser on Surfshark's VPN software/app. With Bypassers, you can choose what application or software you don't want to connect through VPN. For example, you can bypass China services such as WeChat, Taobao etc.
Surfshark also supports Double VPN, which is called MultiHop and allows users to connect via two different VPN servers to further increase online security and privacy.
In addition, Surfshark also offer Kill Switch, which cuts you off from the internet if your VPN connection drops unexpectedly.
» Visit Surfshark VPN (with discount)
Surfshark's VPN Price & VPN Free Trial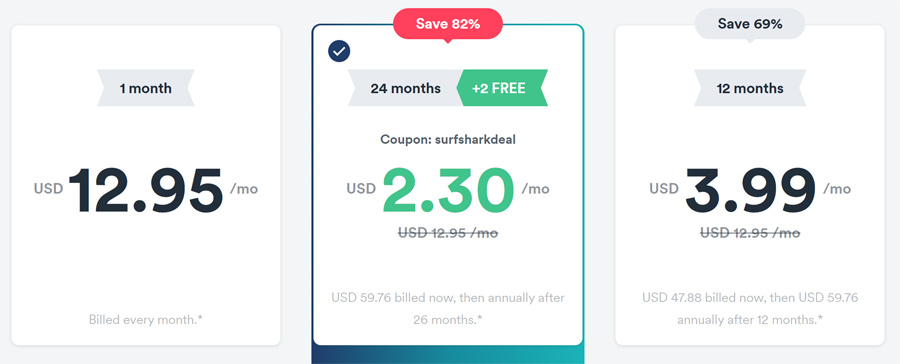 Compared to other top VPN providers, Surfshark VPN offers a relatively low price with several different plans: The 1-month plan costs $12.95/month. The 1-year plan costs $3.99/month. The 2-year plan costs $2.30/month (click this link to get the discount price of $2.05/mo).
Surfshark VPN offers a 30-day money-back guarantee, allowing customers to try out their VPN services essentially for free for up to 30 days.
» Visit Surfshark VPN (with discount)
Surfshark's VPN Software and VPN Apps
Surfshark provides free VPN software and VPN apps for many different platforms, including Windows, Mac, Linux, Android, iOS, VPN routers and more.
Below are some screenshots of SurfShark VPN's Windows software. As you can see, under the "Locations" section, it allows users to select different VPN servers from different world-wide VPN locations:
Below is a screenshot of Surfshark VPN software's setting window: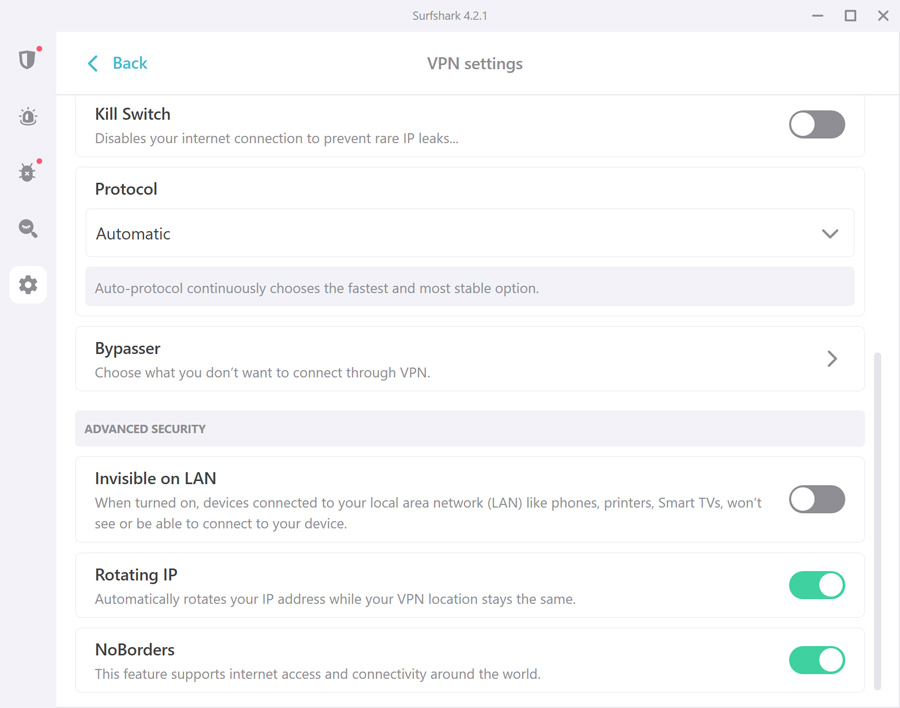 Surfshark also provides free VPN apps for Android and iOS. Users can download those apps in iOS's app store or Android's Play Store by searching with the keyword "surfshark".
In addition, Surfshark VPN supports manual VPN setup using third-party software such as OpenVPN GUI (for Windows users) and Tunnelblick (for MacOS users). Users can log in Surfshark's website to find detailed instructions as well as login credentials. In case you can't get connected to Surfshark VPN using its software, you might try setting up Surfshark VPN manually.
Surfshark VPN for China: Speed Test
Can Surfshark VPN be used in China? Is it stable enough and fast enough? We used a Mac computer for this test, and we did it in a coffee shop in China. China Telecom is the ISP. The internet speed isn't very fast in that coffee shop. Without a VPN, we could get about 20 Mb/s of download speed. Below is the speed test result without using VPN:

Then we used the OpenVPN client Tunnelblick on our Mac desktop to connect to one of Surfshark's Hong Kong server. We got a download speed of 17.46 Mb/s, which is only a little bit slower than the internet speed without VPN. The SpeedTest.net testing result is shown below:

Using the same setup, we also did a speed test on one of Surfshark VPN's Japan servers. We got a download speed of 17.44 Mb/s, which is also very close to the original internet speed. Below is the SpeedTest.net result:

Based on our speed tests above, we can say that the VPN speed of Surfshark VPN is very good. Also, the VPN connections were quite stable during our tests.
» Visit Surfshark VPN (with discount)
Surfshark's Customer Support
On Surfshark's website, you can find a link for "Live Chat" after you log in. This is where you can talk to Surfshark's customer service. When you want help, you will be asked to type in your question first. If a match is found, you will be given an answer right away. If not, you can start a live chat section where a real person can answer your questions. We tried Surfshark's live chat support, and the response time was very fast, so we could almost immediately get an answer.
Surfshark for China: Conclusion
Surfshark is a popular VPN provider with worldwide customers and good reviews. Its price is relatively low, and it allows users to use the same VPN account on an unlimited number of devices. Because the Great Firewall of China blocks VPNs, it is hard to use any VPN in China. But we tried Surfshark VPN and found that it worked well in China. We think Surfshark VPN is one of the best VPNs for China because of this. We found the best way to use Surfshark in China is not to use its own VPN software but to use it via manual setup on third-party software (for example, OpenVPN GUI on Windows and Tunnelblick for Mac). To do so, you need to talk to Surfshark's customer support to get setup instructions along with a list of special VPN server configurations for China VPN users. Once you can get connected to Surfshark VPN, we found its speed to be quite fast and the VPN connection quite reliable. Therefore, we have recommended Surfshark as one of the best VPNs for China.