This is our review of SwitchVPN based on our real tests from China. Besides our SwitchVPN review, we have also reviewed a number of other VPN services. If you are looking for a reliable VPN services to be used in China, Please also read our list of Best VPNs for China.

Pros:
Good speed.
Allows up to 5 simultaneous connections.
30 day money-back guarantee.
Cons:
Some connection protocols are hard to connect
Starting Price: $6.66/month
Free Trial: 3 day free trial + 30 day money-back guarantee
Simultaneous Connections: 5 Devices
Website: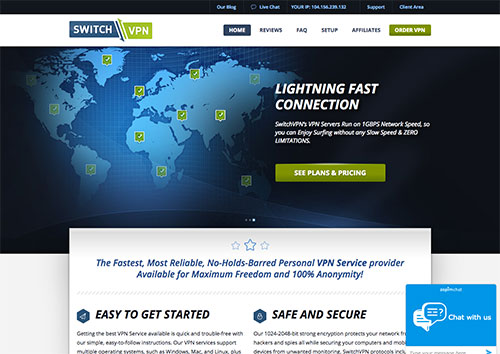 About SwitchVPN:
SwitchVPN is a well-known VPN providers based in India. It offers severs in many different countries and supports all common VPN protocols.
SwitchVPN for China:
SwitchVPN's main domain, SwitchVPN.net is currently blocked in China, but you can visit their service using an alternative domain name – SwitchVPN.asia. Based on our tests, we confirm that users can sign up for SwitchVPN's services from China, and SwitchVPN's VPN service can be used in China. SwitchVPN has been providing VPN services to China users since 2010 and it claims to have their network optimized for China. In addition to common payment methods, it also accepts Alipay and UnionPay from customers in China. SwitchVPN's desktop software supports the Chinese language, which is not common among international VPN providers.
Features:
SwitchVPN has servers in 32 countries, including USA, UK, Japan, Singapore, Hong Kong etc. It supports the following connection protocols: PPTP, SSTP, L2TP and OpenVPN.
SwitchVPN provides software for Windows, Mac, Linux, IOS, Android and compatible routers. It also provides instructions on manual VPN set up.
SwitchVPN allows P2P and VoIP. It also follows a no logs policy so your privacy is protected.
In addition, SwitchVPN provides remote assistance to setup vpn on user's PC/Laptop/DD-WRT router using an application called Teamviewer.
For simultaneous connections, SwitchVPN allows users to connect to up to 5 devices at the same time (most international VPN providers only allow 1 to 2 simultaneous connections).
SwitchVPN's Prices & Free Trial:
The price for SwitchVPN starts from $6.66/mo (if you pay annually). It offers a 30 day money-back guarantee, which is a pretty long period of time for testing out their VPN service.
VPN Software: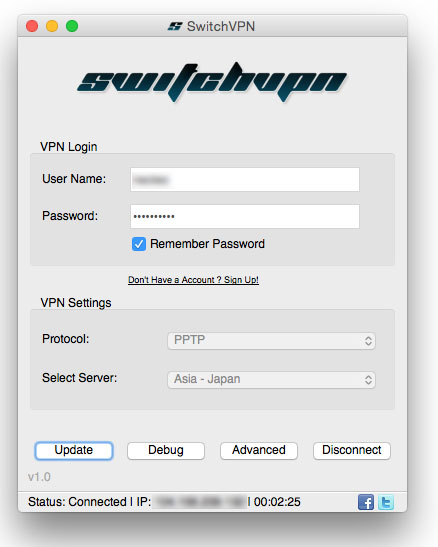 SwitchVPN provides software for many platforms, including Windows, Mac, Linux, IOS, Android etc. We downloaded their desktop client for Mac OS. The installation process was straight-forward and the software interface is clean.
One distinct feature of SwitchVPN's desktop client is that users can choose to use either English or Simplified Chinese for its interface. Offering Chinese interface it not very common among international VPN providers.
With the desktop software, you can connect/disconnect to VPN and also change servers from different locations or countries.
Connections & Speed:
Is SwitchVPN stable enough and fast enough to be used in China? For this test, we used a Mac computer from Beijing, China. Our ISP is China Unicom. Without VPN, we can get a pretty fast download speed of around 62Mb/s. Below is the SpeedTest.net test result without connecting to VPN. Please note: this speed only reflects the speed for visiting local websites within China. International speed would be much lower than that. We show this result only to give you a rough idea about how fast our current ISP is: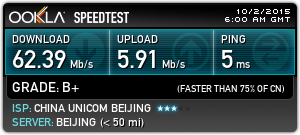 Then we used SwitchVPN's Mac desktop client to connect to their Hong Kong server using the PPTP protocol. We got a download speed of 15Mb/s, which is a very fast speed.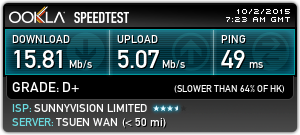 However, we found it difficult to connect to SwtichVPN's servers using some of the other protocols, especially OpenVPN. Also, a small problem we noticed when connecting to SwitchVPN's Japan server is that we could no longer access Sina Weibo (Weibo.com). If we switch to their Hong Kong server, we wouldn't see this problem any more.
Customer Support:
On SwitchVPN's website, there's a live Chat window where you can connect directly to a customer service representative. we tried getting help using the chat window a couple of times and was able to connect to a support representative immediately. The online chat sessions were pretty helpful in dealing with basic questions such as account features etc. For technical problems (such as connections issues), we were suggested to submit support tickets instead.
SwitchVPN Review Conclusion:
SwitchVPN is a VPN provider with servers from many countries and locations. It seems to have experience serving China users, because their software includes a Chinese version and it also accepts payment methods popular in China such as Alipay and UnionPay. Another good thing about SwitchVPN is that it allows up to 5 simultaneous connections, while many other VPN providers only allows 1 or 2.
The main problem with using SwitchVPN is that some connection protocols, such as OpenVPN, is hard to get connected. But the PPTP and L2TP/IPSec methods seem to be fine. If you use SwitchVPN, we'd recommend using these two protocols and connect to their Hong Kong server.
If you are looking for a reliable VPN services to be used in China, Please make sure to read our list of Best VPNs for China.