This is our review of Astrill VPN based on our real tests from China. In addition to our Astrill VPN review, we have also reviewed a number of other VPN services. If you are looking for a reliable VPN services to be used in China, Please also read our list of Best VPNs for China.
Click Here for Best VPNs for China

Pros:
Fast speed
Many servers available in many countries
Cons:
A big target for China's VPN blocking. Recently often get blocked.
Have to pay extra fee to get some of the advanced features.
Below average customer support
Starting Price: $5.83/mo
Free Trial: 7 days
Simultaneous Connections: 1 computer and 1 handheld device (upgrade available)
Website: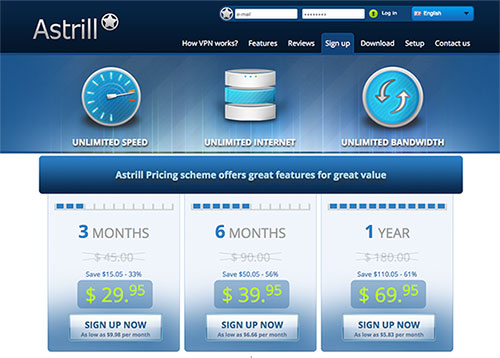 About Astrill VPN:
Founded in 2009, Astrill VPN is a well-known VPN provider with a large number of worldwide server locations and it supports all common VPN protocols. In the recent years, Astrill became quite popular in China.
Astrill VPN for China:
Click Here for Best VPNs for China
Probably because of its popularity in China, apparently Astrill VPN has become a target for VPN blocking. As a result, The main domain astrill.com is not accessible from China at this moment. Its alternative domain getastrill.com is also blocked in China. If you want to sign up from China, you might have to first use another VPN service to visit Astrill VPN's website, or you can sign up from a country where it's not blocked. However, once you've signed up and downloaded its VPN client, you can use Astrill VPN from China.
When used in China, Astrill VPN is usually pretty fast. However, recently Astrill users in China have seen more and more outages, probably due to stronger blocking. For example, on March 4 2016, many Astrill VPN users from China found they could no longer connect to their VPN service. Many received a message from AstrillVPN saying "Due to increased censorship in the upcoming 10 days, VPN service might not work well in China. We expect everything will get better after March 14. You will be compensated for the time service is unavailable when the issue stop."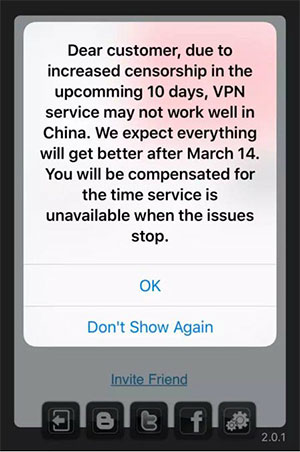 In February 2016, when Astrill was again having connection problems, many Astrill VPN users received an angry message from Astrill (see picture below), blaming their customers for the blocking and calling their customers stupid: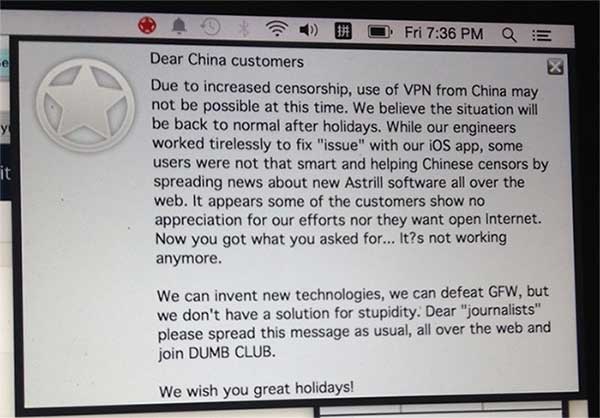 Many Astrill users in China became upset about this message.
Click Here for Best VPNs for China
Features:
Astrill has servers in a large number of countries it offers three major connection types: OpenWeb, OpenVPN and StealthVPN. OpenWeb is for web browsing only (traffic from desktop applications won't go through VPN). OpenVPN is for both browsers and desktop applications. StealthVPN is Astrill's customized version of OpenVPN, designed specifically for China users to avoid blocking (StealthVPN requires additional cost of $2/mo unless you pay for 1 year). In addition to VPN services, Astrill also sells routers with VPN built in.
Astrill offers a couple of handy features to improve user experiences. Its Video Accelerator is designed to speed up video streaming. Its Application Filter allows users to specify which applications will go through VPN and which not. Astrill also provides a Site Filter function, which can be used to specify which site(s)  you want to (or do not want to) tunnel through VPN. This feature is potentially helpful to speed up connection speed for loading local websites.
For simultaneous connections, Astrill VPN's basic account allows only 1 computer and 1 handheld device to be connected at the same time. However, If you purchase the ProAddon ($5/mo), you can connect 2 devices of any type simultaneously. If you purchase the Home Plan Addon ($5/mo), you will be able to have 5 simultaneous connections.
In addition to common VPN protocols, Astrill offers a customized version of OpenVPN, called StealthVPN, that is designed specifically for China users to avoid blocking.
Unlike most VPN providers we have tested, Astrill VPN has a few servers located in Mainland China. For this reason, Astrill VPN can also be used to get a China IP address from outside of China (VPN into China).
Astrill VPN's Price & Free Trial:
Astrill offers 3 plans: $29.95 for 3 months (equivalent to $9.98/mo); $39.95 for 6 months (equivalent to $6.66/mo) and $69.95 for 1 year (equivalent to $5.83/mo). Regular VPN users can use Astrill VPN on only one device at the same time.
When you sign up for Astrill, you will find they try to sell you additional add-on services that cost more. For example, their Home Plan allows you to use up to 5 devices at the same time at an additional cost of $5/mo; Their StealthVPN service (for avoiding blocking in China) costs $2/mo or free with 1-year plan; Their VIP add-on ($10/mo) provides servers connected directly to China providers for better speed and lower latency.
Astrill offers a 7-day free trial for users to try out their VPN service.
VPN Software: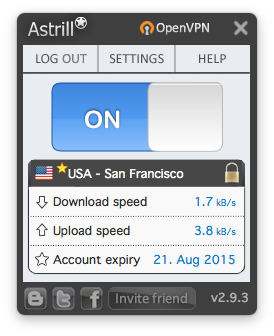 Astrill provides software for many platforms, including Windows, Mac, Linux, IOS, Android etc. We downloaded their desktop client for Mac OS. The installation process was straight-forward and the software interface is clean.
With the desktop software, you can connect/disconnect to VPN and also change servers and switch connection methods. However, we found their settings menu is a little messy with many options showing together that it might confuse regular users. Sometimes it's hard to find where to go for certain options.
When the Astrill VPN client software is running, an icon will stay on the menu bar (or called system tray on Windows), and it will indicate whether you are currently connected or not.
Connections & Speed Test for Astrill VPN:
Is Astrill VPN stable enough and fast enough to be used in China? For this test, we used a Mac from Guangzhou, China. Our ISP is China Telecom. Without VPN, we could get a  download speed of around 19.83Mb/s. Below is the SpeedTest.net test result without connecting to VPN. Please note: this speed only reflects the speed for visiting local websites within China. International speed would be much lower than that. we show this result only to give you a rough idea about how fast our current ISP is: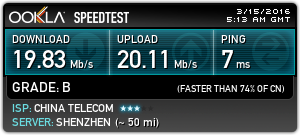 Then we used Astrill's Mac desktop client to connect to their USA server (China Optimized 3) using the StealthVPN protocol. we got a download speed of 12.87Mb/s, which is a decent speed.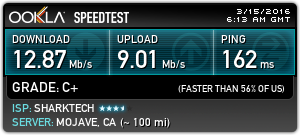 However, we encountered a number of connection failures with or without using Astrill's StealthVPN protocol. A number of servers are not responsive and cannot be connected to. When using StealthVPN, which is designed specifically for preventing blocking in China, we saw less connection problems. But keep in mind that you must pay another $2/mo to get StealthVPN unless you subscribe their 1-year plan, which includes StealthVPN for free.
Customer Service:
On Astrill's website, there's a link for chatting with customer support live. When we started the chatting window, we were told to wait in line and the waiting time was around 10 minutes. After the 10 minutes had passed, we were shown a message suggesting us to leave a message instead. As a result, we weren't able to chat directly with Astrill VPN's customer service representative at all.
Astrill VPN Review Conclusion:
Astrill VPN is one of the most popular VPN providers for China. However, maybe due to its high popularity, it might have become a target for blocking in China. Currently its website is blocked in China. You can use another VPN service to visit their website to sign up. Once you have signed up, you can use Astrill VPN from China. Astrill VPN's connection speed is very fast, but you might encounter occasional connection failures if you use Astrill in China. Astrill does offer a solution, StealthVPN, to address blocking issues in China, but users have to pay more to use it. If you do want to use Astrill, we'd suggest you pay the extra fee to use their StealthVPN protocol. If you are looking or an Astrill VPN alternative, you can see our list of Best VPNs for China or try the VPNs listed below:
Click Here for Best VPNs for China
Astrill VPN Alternatives:
If you are looking for a VPN to be used in China, you have some other choices besides Astrill VPN. At VPNdada.com, we test and compare VPN services from different providers from China and recommend the best ones. Based on our test results, we recommend the following Astrill VPN alternatives:

Visit ExpressVPN  Read Our Review